EastPoint Brighton Pool Table Reviews
You should consider the Eastpoint Brighton Pool Table. This is a solid home pool table that isn't going to cost a fortune and is easy to move around. Read the rest of the review for the EastPoint Brighton Pool Table!
Manufacturer Description:
The EastPoint Sports 7ft 5in (87in) Brighton Billiard Table is the ultimate addition to any family game room, rec room, man cave, basement or garage. It's sure to keep your family or guests entertained for hours on end. Featuring traditional style ball and claw legs and parlor style drop pockets, the scratch resistant LusterLong finish is strong enough and durable enough for the modern family. The table comes complete with all accessories and ready to play out of the box. There is nothing better than fun family time around the game table.
TRADITIONAL CLAW LEG BILLIARD TABLE WITH PARLOR STYLE DROP POCKETS
K-66 RUBBER BUMPERS – Provide professional style and yield consistent bounce, offer professional-style, consistent bounce while leg levelers enable precision play
BUILT-IN LEG LEVELERS – Ensure a level playfield for consistent roll
ASSEMBLED DIMENSIONS – 87 inches Long  x 50 inches Wide x 31 inches High

87-in. complete billiard table with all accessories for 1 to 2 players

Traditional style ball and claw legs as well as parlor style drop pockets add to the classic charm

Luster Long finish resists wear and tear while sturdy construction provides long-lasting durability 

Set includes: 1 billiard table, 2 wooden billiard cue sticks, 1 set of 16 billiard balls, 2 billiard chalk cubes, 1 billiard triangle rack, and 1 table brush
---
The Brighton Billiard Pool Table Review
I was shopping around for an addition to my man cave and thought a Billiard Pool table would be perfect. It was during the Christmas month so I was definitely out shopping for a bargain. The EastPoint Sports Brighton Billiard Pool Table was on sale and cost me around $325 which included $49 freight shipping and taxes which wasn't bad for a pool table. The normal price was $400-500, depending on which retailer you're buying it from. I would highly recommend shopping around.
The goal of my purchase was to have a pool table without spending too much. We were initially looking for the professional pool size table of 9 feet but settled for a 7 footer due to cost and space.
There was probably one other table of this size in this price range at the time, and based on the reviews and aesthetics it was an easy decision. Now that doesn't mean there weren't any concerns. There were some common complaints that made me sit on it for a while before making the purchase.
Common Complaints on the Internet
Here are my thoughts on some of the common complaints found on the Internet:
Odor – I did not experience this at all. Just like any MDF product and/or new felt, there is a perhaps a slight smell that will go away.
Poor engineering where holes don't line up – yes, even for this price, there's no excuse for screw holes not lining up and table top holes not lining up. Luckily, it did not affect game play, though we did not have to move the table around a lot.
Cheap material fake wood – Let's be realistic for this price, no complaints here.
Light weight, flimsy and unstable – The table is not made to have anyone lay on it. You can forget about any trick shots requiring you to lay on the table. The table is a bit wobbly if you sit on it and the legs doesn't appear to withstand too much moving around. Once you find the sweet spot, I wouldn't consider moving it around too much. As for the table top, it's pretty heavy requiring a minimum of two people to move it around. Since it's made of MDF material, I would suggest to handle with care.
Shipping Damage – See Shipping and Handling section below in this review
Table requires leveling – Mine was extremely leveled, I checked multiple times. So no complaints here. There are built-in Leg Levelers to get the table ready for precision play and is really easy to use. These Leg Levelers are right under each leg and can be easily adjusted by turning it to move up or down.
Other things to consider about this Pool Table:
The Pool Balls are smaller than the ones you would find on the professional 9+ foot Billiard Pool tables
The MDF material which the table is made of can be easily chipped if not careful
This Billiard Pool Table comes with two Pool Sticks, Ball Rack and a bag of cues.

Pool Sticks were a bit light, but does the job
Ball rack looks like your typical rack but made of plastic
Cues were what you would expect, nothing out of the ordinary here
Felt were a bit thin, but with proper care, it can last a while.

Assembly is pretty straight-forward, putting the legs together is the hardest and getting use to. See Installation video for more information below.
Amazon Price Check – click here
Walmart Price Check – click here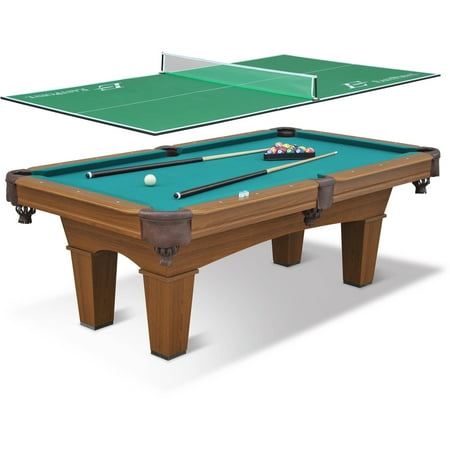 Brighton Billiard Pool Table Close-up
Shipping and Handling
There are enough complaints online for folks who had received the item damaged during transport. If you like many are purchasing this online, I would recommend paying for freight services. Pilot Freight company was the carrier who delivered our shipment. They specialize in moving heavy large items which reduces the chance of a damaged pool table. I had a few large heavy items shipped by Pilot and they were always decent. Though my table arrived with a few minor bumps which included minor chips on the side of the table, a patch of hole on the bottom and a broken block which appears to be for structural purpose. Neither of these damages were serious enough to warrant a full exchange or refund so we kept it and have owned the table for two years now.
Other Similar Pool Tables to Consider
Final Thoughts
I rated this Billiard Pool table a 4 out of 5 based on the price factor. This was a pretty solid purchase considering I spent less than $400 for it compared to a real professional Pool Billiard table that could easily cost over $1,000. The EastPoint Sports Brighton Billiard Table kept my kids busy and allowed us to get some good practice in when there's nothing to do. One thing to keep in mind is that you may outgrow it and is a good beginners/practice table for the casual players. The EastPoint Sports Brighton Billiard Table does look pretty good under certain lighting, but the painted plastic legs may give away that it's not a real wooden table. Overall, I am happy with the purchase and have no regrets.
TGR Rating: 4 out of 5 
Any comments, questions? Feel free to drop it below!
Articles You May Be Interested In